"Problems of poverty are, on most occasions, inextricably linked with those of water —
its availability, its proximity, its quantity, and its quality."

( United Nations' World Water Report, 2015 )
Sarvajal in Sanskrit means 'Water for All'
Our Mission & Vision
Piramal Sarvajal, seeded by the Piramal Foundation in 2008, is a mission driven social enterprise which designs and deploys innovative solutions for creating affordable access to safe drinking water in underserved areas. Sarvajal is at the forefront of developing technologies and business practices in the safe drinking water sector that are designed to make a purely market-based model sustainable in both rural and urban deployment conditions.
Currently, we are reaching out to about 300,000 consumers daily, through 570+ installations across 12 states
Our Mission: Piramal Sarvajal innovates, demonstrates, enables and promotes sustainable water solutions for the underserved.
Our Vision: Piramal Sarvajal sets up community level solutions that are locally operated but centrally managed on a market based pay per use system. While we are purification technology agnostic, we leverage cloud based technology for greater operational oversight. As such, our initiatives are low cost for high impact.
Our Journey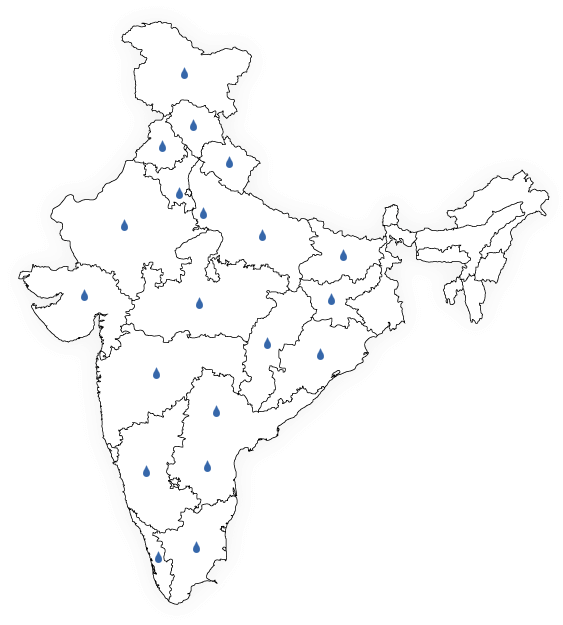 Where We Work:
Across 12 States in India
Rajasthan
Gujarat
Haryana
Maharashtra
Madhya Pradesh
Delhi NCR
Uttar Pradesh
Bihar
Jharkhand
Karnataka
Chhattisgarh
Jammu & Kashmir
Spanning a physical diameter over 3000 km
HOW IT ALL STARTED
Two thirds of the Indian terrain has no perennial river flowing through it, creating overdependence on ground water. Even today three quarters of India still drinks untreated water, inadvertently leading to losses ranging from diarrheal deaths to permanent fluorosis.
This was particularly poignant in the Piramal hometown of Bagar, situated in a water scarce region of Rajasthan. To change this, Sarvajal founder Anand Shah gave genesis to a program aimed at achieving low-cost scalable solutions serving "safe water for all."
Since the initiative was bound to be a multi-location affair, distributed operations posed a serious challenge to efficiently and (cost) effectively managing the project. Also, generating sufficient demand meant breaking existing taboos around buying water by educating consumers about water-health linkages. Sarvajal's team therefore innovated a solution that could be customized for the water contamination profile of any location with pioneering remote monitoring technology. It also invested in community awareness activities while tapping into local entrepreneurial drive and resources by adopting a franchise model.
Our Team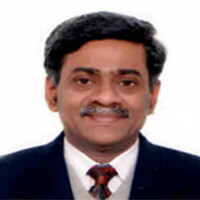 Vasu Padmanabhan
Chief Executive Officer
Vasu is a B.Tech from IIT-Delhi and MBA from FMS-Delhi. He brings with him 28 years of rich experience in sectors like Real Estate, Telecom, FMCG and Durables. Prior to joining Piramal Water, he has worked at Motorola, DLF etc in leadership roles as CEO, Director, SVP and his last assignment was as a CEO in a low cost housing start-up.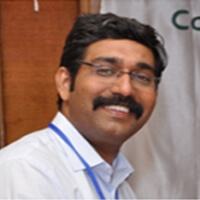 Anuj Sharma
Chief Operating Officer
Anuj is a development sector professional, designing and scaling up low-cost, market-based, sustainable solutions in rural India for last 11 years. He is an engineer by training and holds MBA from IRMA, is a recipient of Amul-Tata Scholarship. Previously, he led Pratham's Rajasthan Chapter and Read Rajasthan Campaign for 40,000 government schools. He had been selected as a GSBI Social Entrepreneurship Fellow by Santa Clara University, California in 2012. Recently, he has been recognized amongst India's most talented rural marketing professionals by CMO Asia.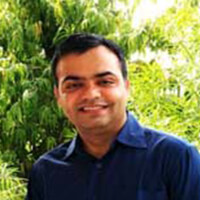 Harish Manwani
General Manager Operations
Harish holds a Bachelor's degree in Humanities from Rajasthan University and an MBA from the University of Bedfordshire in England. He has joined Piramal Water from Pratham's Rajasthan chapter where he worked in operations and finance.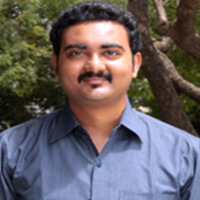 Sanket Adeshra
General Manager Finance
Sanket is an Associate member of Institute of Chartered Accountant of India and a post graduate from Gujarat University. He is heading Finance Department and ISO 9001:2008 Compliance. Prior to joining at Piramal Water, he has worked in Finance Department at Zydus Cadila, Ahmedabad.