Become a Franchisee
Do you want to run a profitable business while doing social good for your community? Work with Piramal Sarvajal and become a water entrepreneur today!
What Sarvajal Provides
5-stage water purification plant of desired capacity fitted with patented remote monitoring 'Soochak' system
Easy-to-use touch screen interface in your language
Robust IT infrastructure and interfaces
Assistance in organization of site preparation
Marketing materials and Sarvajal merchandise
Ongoing maintenance support, minimizing machine downtime
Comprehensive training on machine operation
Business Support through machine launch and community awareness programs
Guidance in growing your business in a phased out manner
Use of a trusted, recognised brand
Membership of a vibrant franchisee network
Social Status, at the heart of your community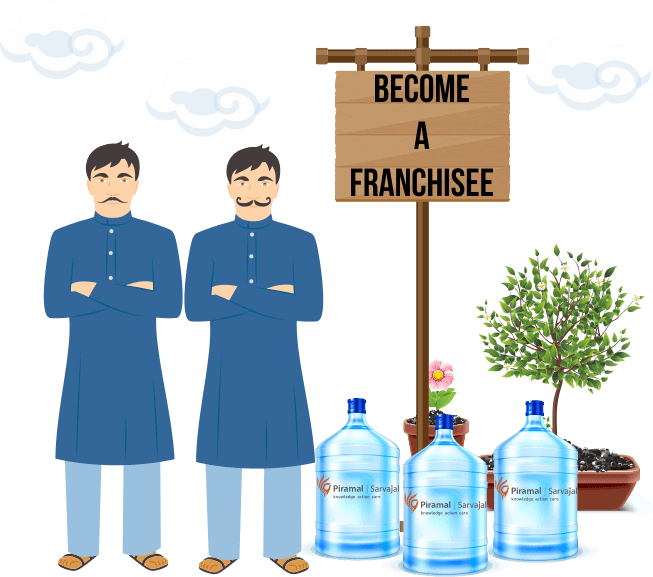 Sarvajal's Value
Maintenance
Automated controls like backwash capability every 6 hours ensuring longevity of the machine
Good Quality Consumables, at no extra cost
1st year Component Replacements covered
24x7 call center to assist
Monthly Scheduled Maintenance to keep your machine healthy
Emergency Maintenance
Toll free number - 18001032334
Tilak (Initial Launch Activity)
We try from the first week itself to have enough customer base for operational break-even.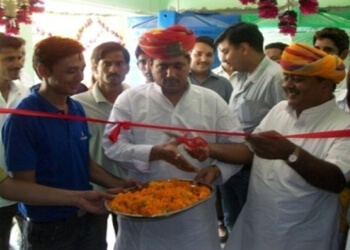 Ongoing Community Awareness and Local Marketing
Brand promotion activities
Health awareness activities
Direct and indirect contact with end consumer
Incentivizes loyalty to your business
Business Support
Training you on basic business practices
Provides pathways to grow your business
Requirements
Physical Resources
A clean, hygienic and well ventilated plant site to house the machinery (Space of at least 15x12 feet)
Access to a borewell or reliable source of raw water
Commercial Electrical connection to run your plant. (Single / 3 phase)
Equipment to sustain your business – chiller, delivery vehicle, cool jugs etc.
Maintain hygienic practices that ensure maintenance of water quality at all times (For e.g. daily cleaning of water bottles)
Service Inputs
Build user base through focused local marketing initiatives
Establish and maintain relationships with local community
Expand reach through local networking, face to face meetings and regular telephone contact
Ideal Layout of Plant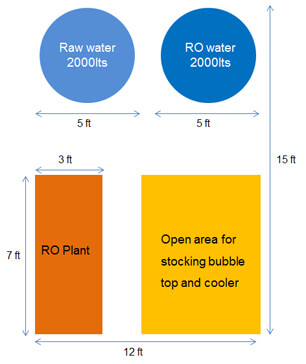 The Customers' Benefit
Affordable (Sarvajal costs less than a cup of chai!)
Assured quality
'Water Insurance' against water borne disease
Reliable access